"The doctor of the future will give no medicine, but will interest her or his patients in the care of the human frame, in a proper diet and in the cause and prevention of disease." – Thomas Edison
Expert Speaker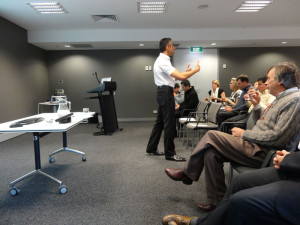 Tony is a leading health and self-empowerment expert speaker and published author.
He brings over ten years' experience at the highest level as a health professional, corporate & professional speaker and author.
His understanding and integration of mind and body concepts bridges the gap between health, well-being and human behaviour.
Tony has developed a comprehensive health and self-empowerment program, The Power to Navigate Life which he has presented to corporate companies across Australia.
The program teaches participants how to achieve continued mental, emotional and physical well-being using easy to follow principles.
The book which bears the same name is endorsed by Australia's prominent sports neuroscientist, Dr Roy Sugarman and New York Times Bestselling international author, Dr Eldon Taylor.
He has worked with several prominent companies across Australia to include: Grocon, Coles, GHD, MWH Global, Swinburne University, Bain & Co, Dixon Appointments and many others.
Tony is available for keynote speeches, seminars and workshops.
Contact me to discover how I can be of value and service to your organisation.
Connect with me via LinkedIn in the interim.
Testimonials
"Tony is excellent in Mind Body training. Tony started with a comprehensive assessment of my health objectives and professional objectives. He prepared a nice assessment, strategy and road map. Trained me for 1.5 years and made training a part of my day and life. I have been able to achieve the objectives based on Tony's support and guidance."
– Anindya Ghosh, Sr Manager, Client Services FSI at Infosys Australia
"Your highly informative Wellness Program offers a very practical and simple ways to bring my busy life – in and out of the office – back to a state of calm. I had no idea how weight gain was linked to stress!"
– Helen Camp, Head of Faculty, Swinburne University
"The advice from your seminar replayed in my mind for days and was easy to integrate into my working day. The solutions Tony offered were practical and highly relevant to myself and my colleagues. Most impressive, and great to feel in control of my energy levels again!"
– Steve Nye, Growth Sector Leader – Water MWH Global
"Tony's presentations attract interest from our participants. His delivery and enthusiasm is evident, given the praise he receives from participants. He engages them thoughtfully and deliberately and this is why he is well received. His passion is conveyed through his presentations, since he is one of the few presenters who takes the time to listen and engage with the audience. I highly recommend him to any organisation looking for an articulate and engaging speaker."
– Ryan Mannix, Course Facilitator Triathlon Victoria